Welcome on the website of Evolution Spas
Winner of the Pool Eco Attitude Award for most ecological spa in the world.
Evolution Spas are designed for European Spa lovers, according European standards and for the European climate.
Our Belgian and Dutch designers have combined the best of the spa industry in the Evolution Spas.
The best components, the best spas
By using the best parts and the newest technologies we have created the best spas of its kind. These spas are immune against extreme temperatures.
On this website you will find out how we make our spas and which components we use for our spas.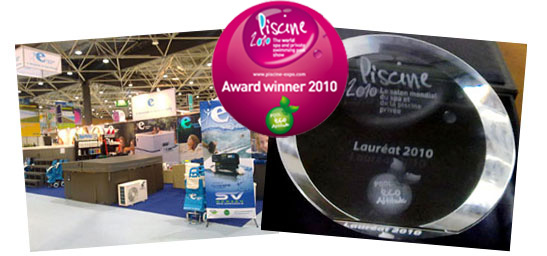 Evolution Spas did win the prestigious Award ' Eco Pool Attitude' during the largest spa and private pool exhibition in the world (Le salon mondial du spa et de piscine privée 2010) in Lyon (France). This award is for making (and selling) the world's most ecological spa, which means also the most energy saving spa of the world. By using our unique filtration and disinfection system, using chemicals is minimized and by using our new product AquaPerfect no need of using chlorine anymore. AquaPerfect is 100% biodegradable! click here to get to green page
Evolution Spa, A revolution in hydrotherapy
Each spa is manual-build and controlled. Our triple control system guarantees a perfect spa, which you will enjoy for many years. We guarantee not only the perfect massage but also crystal clear water. Watch our 3-zone system with a 1-micron disposable filter, (pleated filters are 50 micron) a powerful ozone generator with special a ozone reaction chamber and UV-system. The perfect combination for the ultimate disinfection which is unique in the spa industry.